What is Snowshoeing? Useful Tips For Beginners
Polly | December 29th, 2019
To enjoy the winter in the mountains you don't necessarily need to ski or snowboard. If you are not a big fan of extreme sports or you can't do them due to pregnancy or injury recovery – you can try Snowshoeing! It's a fun, safe and easy way to enjoy the snowy outdoors, in your own rhythm.

It's perfect for beginners, all ages and fitness levels. Snowshoeing is a great cardio work, it exercises your legs, buttocks, and thighs more than walking because of the weight of the snowshoes. If you can walk – you can definitely snowshoe.

Today we're going to snowshoe together with Agnieszka Warszawska, a mountain guide and climbing instructor based here in Samoëns, Haute Savoie (French Alps), who's going to share with you some useful tips you should keep in mind before heading to your first snowshoeing in the mountains.

So, let's get started:
What is Snowshoeing?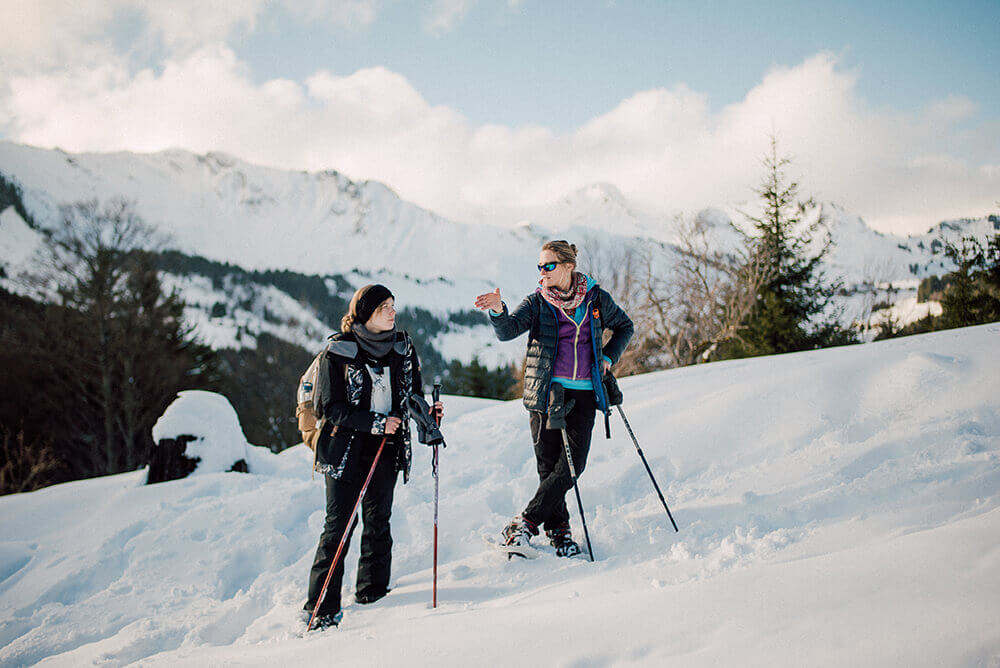 Snowshoes are footwear for walking on the snow, which you put on top of your hiking boots. Snowshoes hold you on the surface of the snow, by distributing your weight over a larger area so your foot does not sink completely into the snow. Snowshoeing is a form of hiking and it is giving you the access to get into the places you can't get to without, in the snow.

It's possible to rent a pair of snowshoes in most of the ski rental shops at ski resorts or, if you think you're going to snowshoe regularly – it might be worth it to buy one in a sports shop or online. If you are joining an organised snowshoeing excursion, ask your guide in advance if he provides the snowshoe kit that will also include poles. Poles will help you to stay balanced while walking in deep snow, or on non flat areas.
What to Wear and Pack for a Snowshoeing?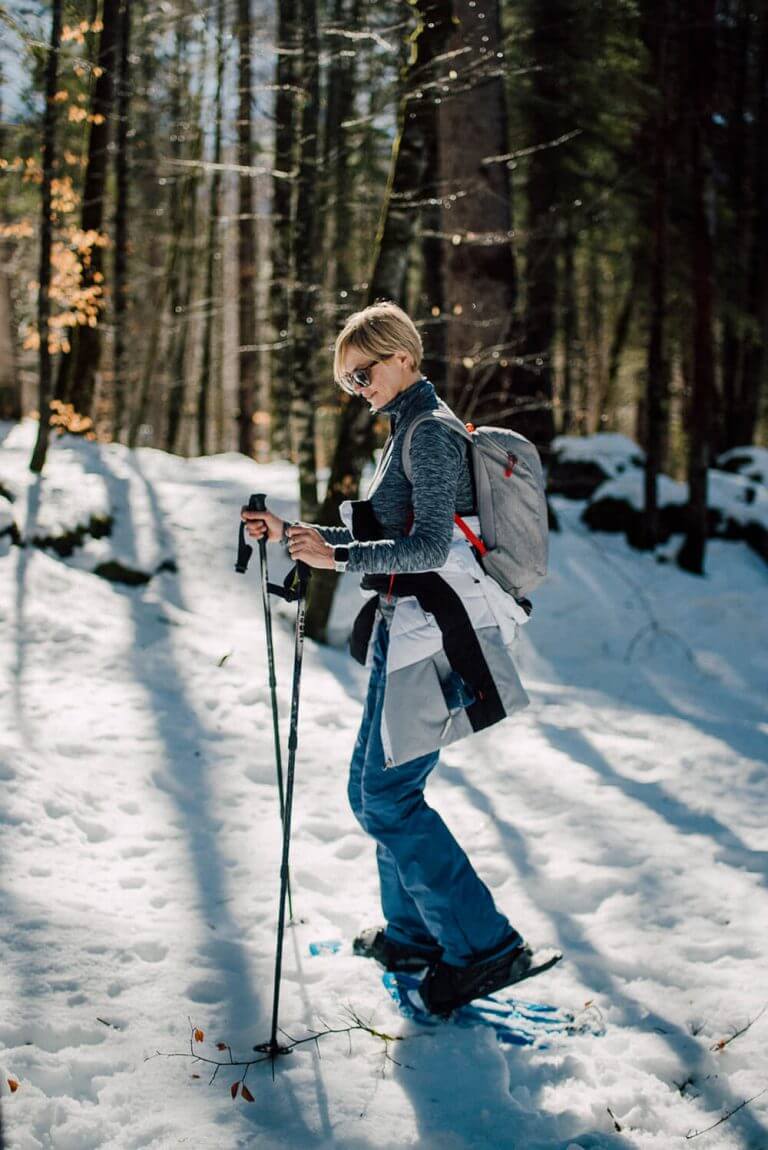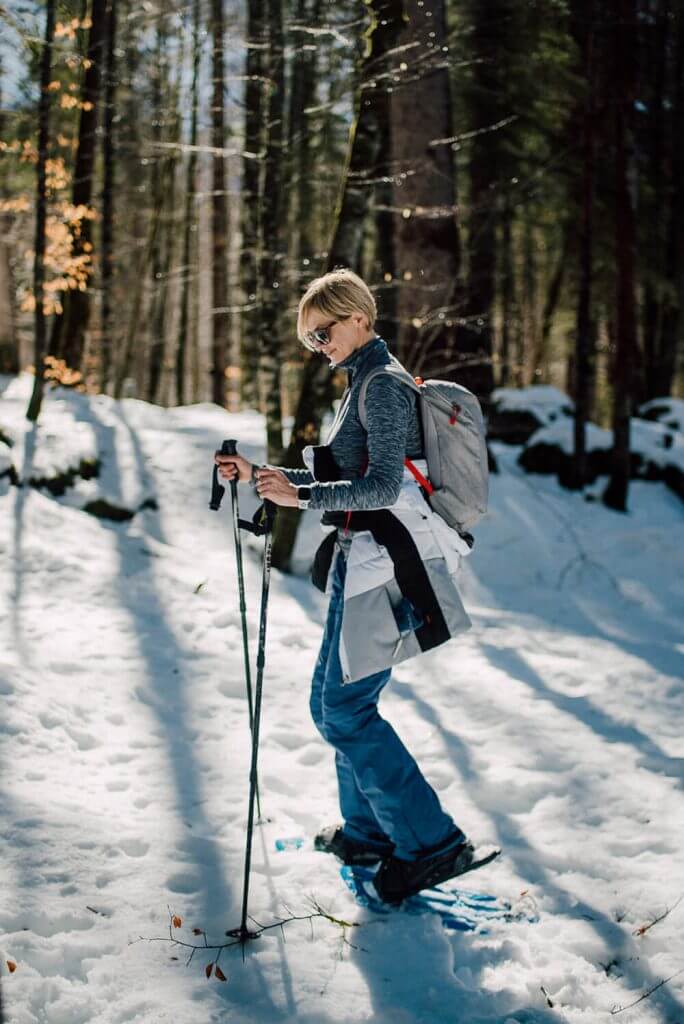 The weather in the mountains changes very quickly from one hour to the next. Even on a sunny and warm day like today, it can get cloudy, windy and snowy in a couple of moments only. So, when you're heading to a snowshoeing in the mountains, keep in mind that you have to be ready for all weather conditions. First – check the forecast for the exact hours of your planned trip, we're always using www.snow-forecast.com or www.accuweather.com which are a bit more accurate than other apps and websites.

Wearing many layers is better than one heavy jacket. As an inner layer, a technical sweatshirt can be ideal if you have one, or just a regular hoodie / sweatshirt / pullover. Or if it's a very warm day, even a t-shirt can be enough. As an outer layer, wear a waterproof, breathable jacket, such as a ski / snowboard jacket, that is lightly insulated to help keep a little heat inside. Ideally wear a pair of ski / snowboard pants or any other kind of waterproof pants, that might need a pair of leggings or base layer pants underneath.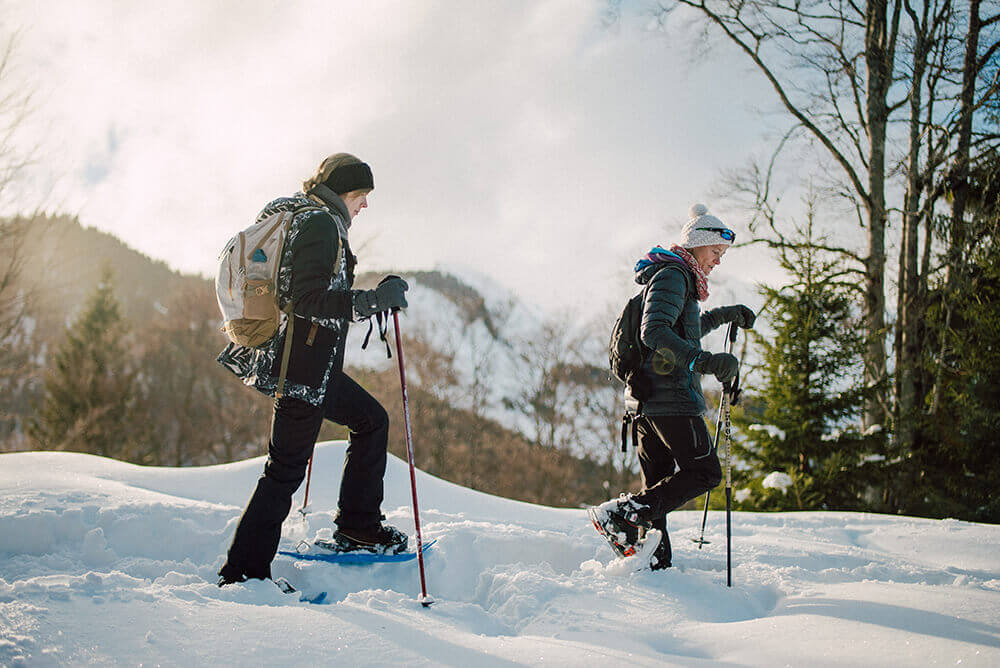 Keep your feet warm with wool or acrylic socks, again, like ski & snowboard ones, that are better than cotton athletic socks. Wear only one, thin pair. A pair of waterproof winter high hiking boots with a ranged ankle will be great. If you don't have any, then a pair of snow / winter boots will do the work, just make sure they are waterproof, light and comfortable enough for a long distance walk.

Bring a medium / small backpack where you can keep your hat, neck protector, gloves, extra socks or even a sweatshirt if it gets too warm to wear while walking.

Be altitude-aware: UV intensity increases with altitude, plus, the white snow is reflecting the sun: so be sure to protect your eyes with a pair of good sunglasses and a high SPF sunscreen, in order to get complete protection from the harmful sun rays. Put a bottle of still water in the backpack, stop walking and take a few sips of water every 20 minutes to stay hydrated.

Don't forget to pack some yummy snacks, such as a sandwich, fruite, nuts, cereal bars or energy balls, to give yourself a boost while you're out there on the trail and your body exerts a lot of energy.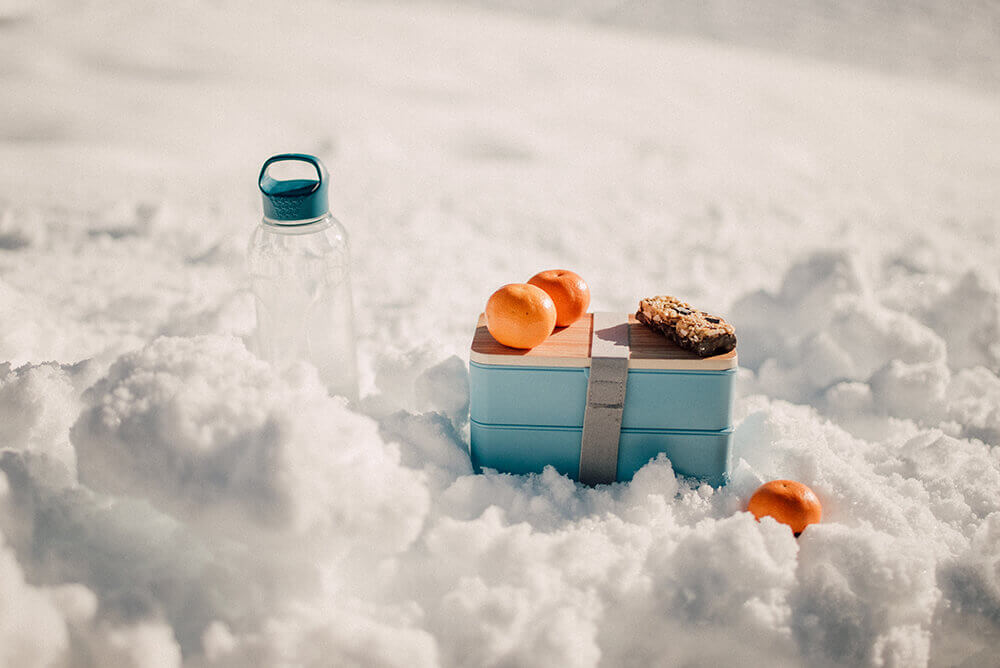 Can I go to a snowshoe by myself or should I join a guided snowshoeing, as a beginner?
If you have used to walk and hike in the mountains by yourself, then self-guided snowshoeing can be possible for you. Even if you are familiar with the area in summer, keep in mind that it's different in winter with additional layers of snow, possible loss of visibility and shorter days. Always take a watch (possibly with a GPS to help you navigate, make sure you know how to use them before you go) and headlight with you, tell a friend or a family member where you're going to and when you will be back.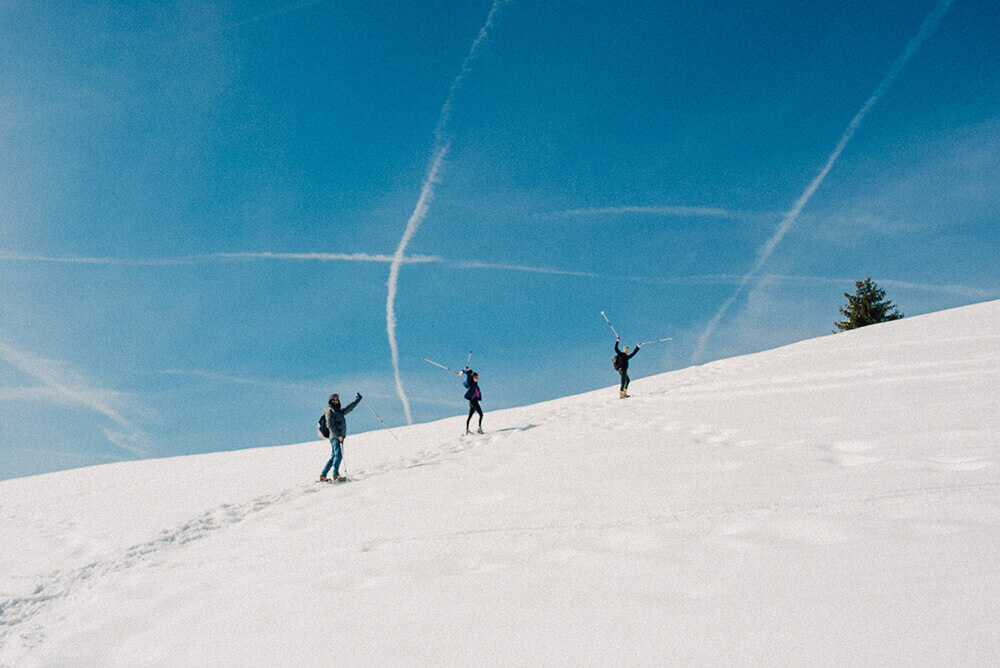 If you are not familiar with the area, you can find a map with local snowshoe routes online or ask for it in the tourist office if you're in a ski resort. You may find yourself sharing a trail with cross-country skiers, so make sure don't step on the ski tracks on those trails. Skiers also have the right-of-way on trail systems because it's easier for a snowshoer to step off the trail safely than it is for a skier to stop or go around.
As long as you stick to the paths and follow the signs, you are going to be safe. Avoid deviating from the route even if it seems like stepping only a few meters away will allow you a better point of view. There might be a risk of: getting too close to the edge of a rock; avalanche risk area; or fall into a tree well, also known as a spruce trap/hole, (a space around a tree under its branches that does not get the same amount of snow as the surrounding open space).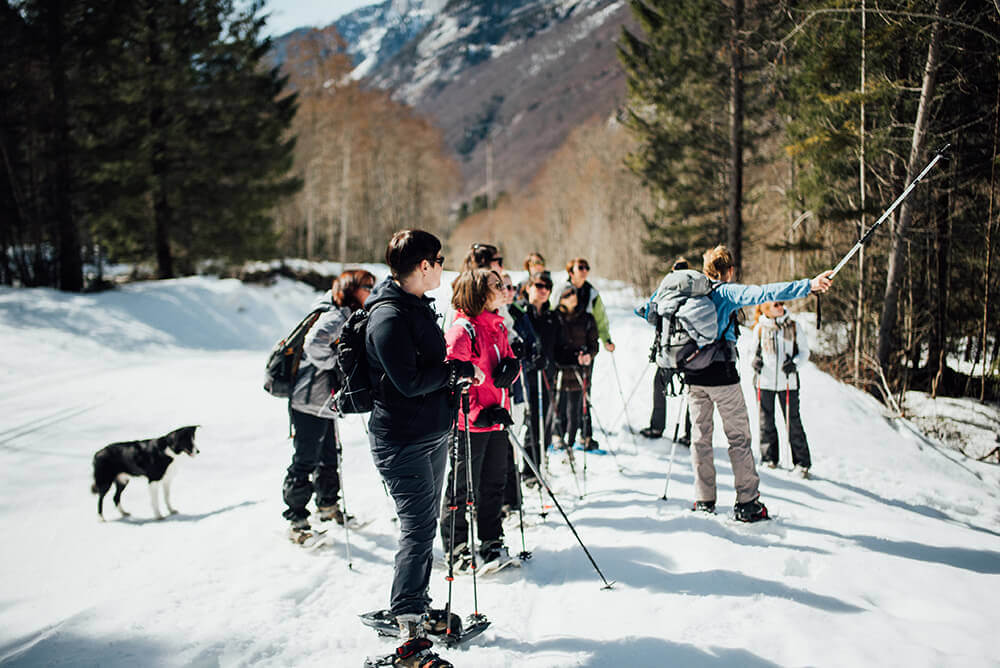 If you are not sure where to go, book a guided excursion and enjoy it's endless benefits. The snowshoeing guide will provide you a transport to the start of the route, along with the snowshoes and poles. A guide knows the area very well and will match the route to the weather conditions, where it's better to go when it's sunny or snowy. He/she will possibly take you to the special quieter and wilder places, with fresh snow and better views. The guide will make the snowshoe excursion even more exciting while telling you lots of stories about the local wintery nature, flora & fauna, which is very different from the rest of the year.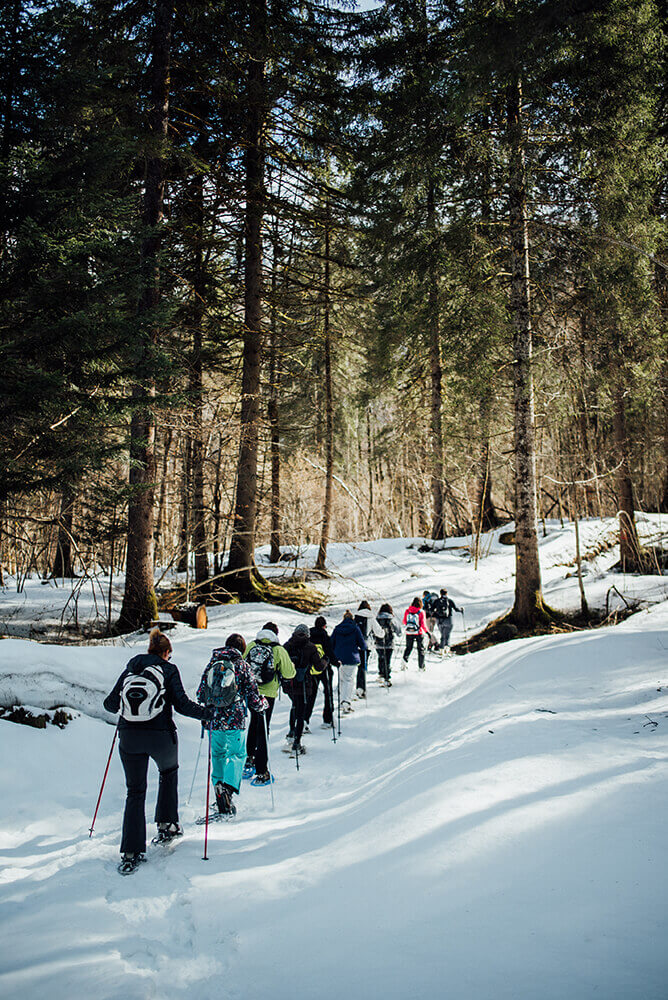 If you want to add some extra flavour to your snowshoe experience, ask the guide to take you to a mountain refuge hut restaurant, the best one of course! There is nothing compared to enjoying a good local wine and cheese fondue in a cosy Alpine atmosphere while it's snowing outside.

And the last and the most important thing about a snowshoe guide is that he/she is living in the area because his/her love to the place! He/she has got a special sensitivity to nature, and might open your eyes on things you had no idea are there, bring you a different perspective, and inspire you to go and explore more and more.
Why combining Snowshoeing and Yoga?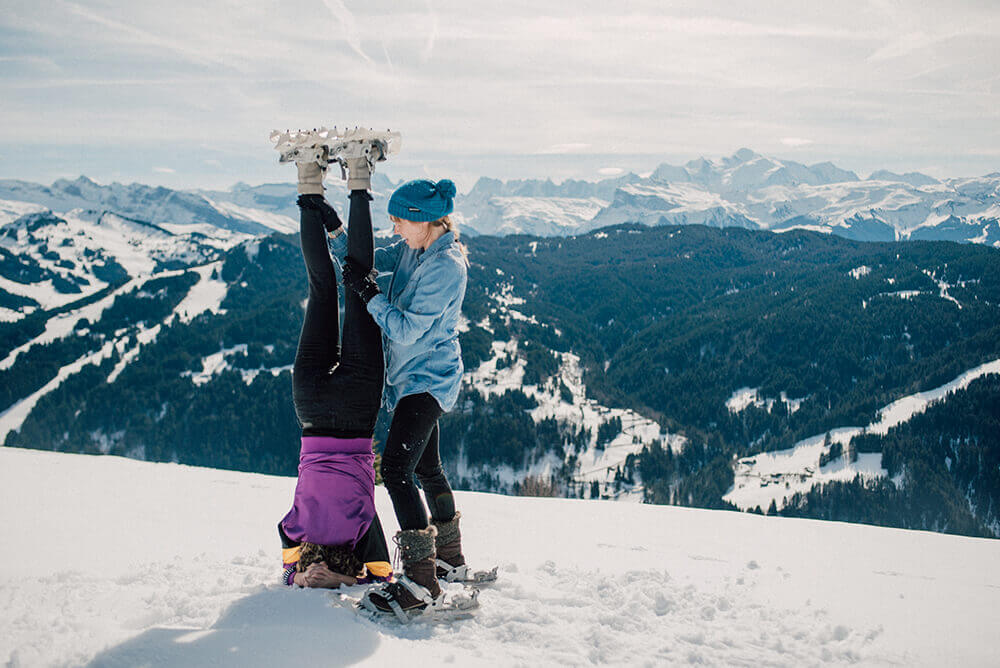 When we first time met Agnieszka in 2018 on a Yoga and Snowshoeing Retreat in Samoens, French Alps, we really liked the way these two activities link together to compliment each other.
In a physical aspect, a short 15-20 minute Yoga can be a good warm up for your body before the snowshoeing and prepare it for a safe and successful journey on the trails and avoid injury. It raises your body temperature, loosens your muscles and warms up your joints to get you ready to walk.
Of course, Yin & Restorative Yoga can also be a great post snowshoeing hike exercise: it can help you stretch out the tight muscles in the legs, and over-worked areas of your body at the end of the day of hiking, and allow you to start the next day with less muscle soreness.
When it comes to the similarity of Yoga and Snowshoeing, both these activities allow you to connect to yourself. When you walk you focus on your breathing, on your steps. It can be surprising to discover this connection with the nature around you, but also with yourself, with all your senses: the sounds you hear, the smells, the sensation of the steps, or the feel of the tree bark, maybe some taste and of course, the objects you see: the tree, the shape, the view! These all keep you here at the present moment, a harmonious moment.
Snowshoeing is fun!
And don't forget, Snowshoeing is all about having joy and fun on a winter day! You might find yourself sliding like a kid, playing in fresh snow, building a snowman and simply sharing this magical moment with the nice people around you.

If you'd like to try out snowshoeing, come to the French Alps, Haute Savoie region, which is only 75 minutes drive away from Geneva International Airport.