5 Effective Self-Massage Techniques to Relieve Aches and Pains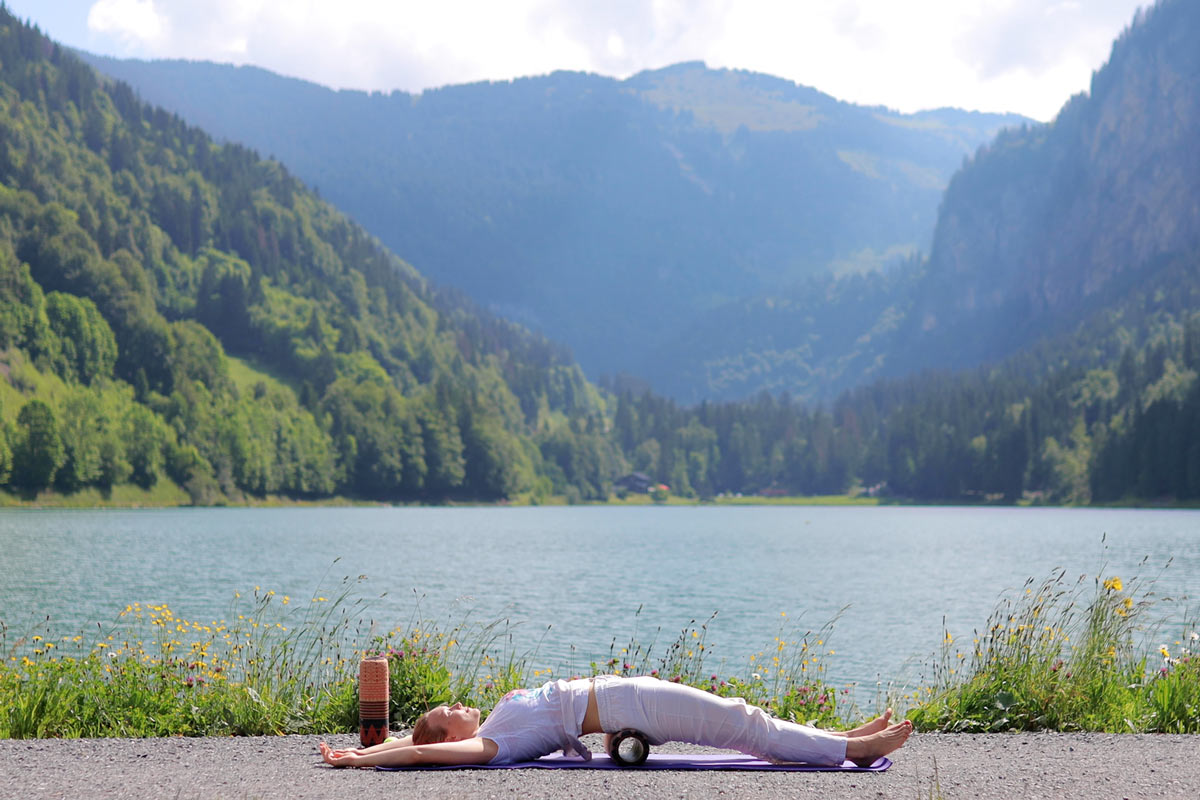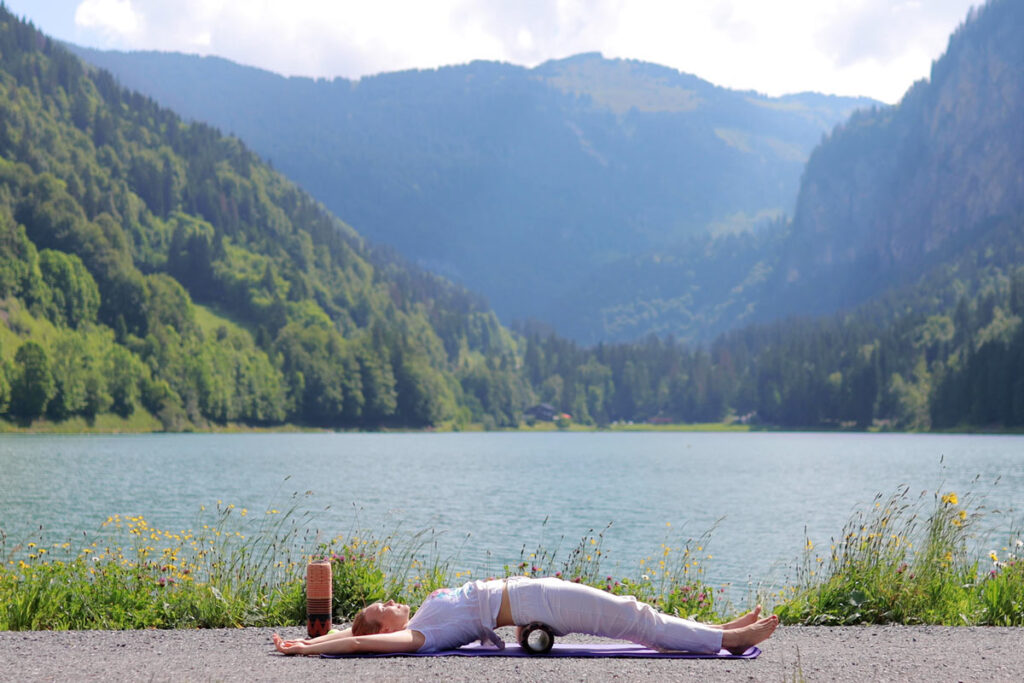 In collaboration with the skilled massage therapist, Paulina Maliniak from Geneva in Switzerland, today we will explore five simple yet highly effective self-massage techniques to release tension and alleviate aches and pains from our bodies.

Many of us struggle with stress due to our hectic work schedules and prolonged sitting hours. Our bodies were not designed for this sedentary lifestyle, resulting in a sense of heaviness in our shoulders and overall tightness. While professional massage is a wonderful way to relax tight muscles and reduce daily stress, there's something empowering about offering yourself a self-massage session whenever needed.

In this video Paulina will guide you through these techniques using a handy massage ball, body roller and our very own hands with a bit of cream or oil.
1. Foot Massage (Using a Tennis Ball)
Let's begin with a rejuvenating foot massage using a tennis ball. Start by placing the ball underneath one foot and place your hands on your hips for stability. You can also do this exercise closer to a wall for better balance.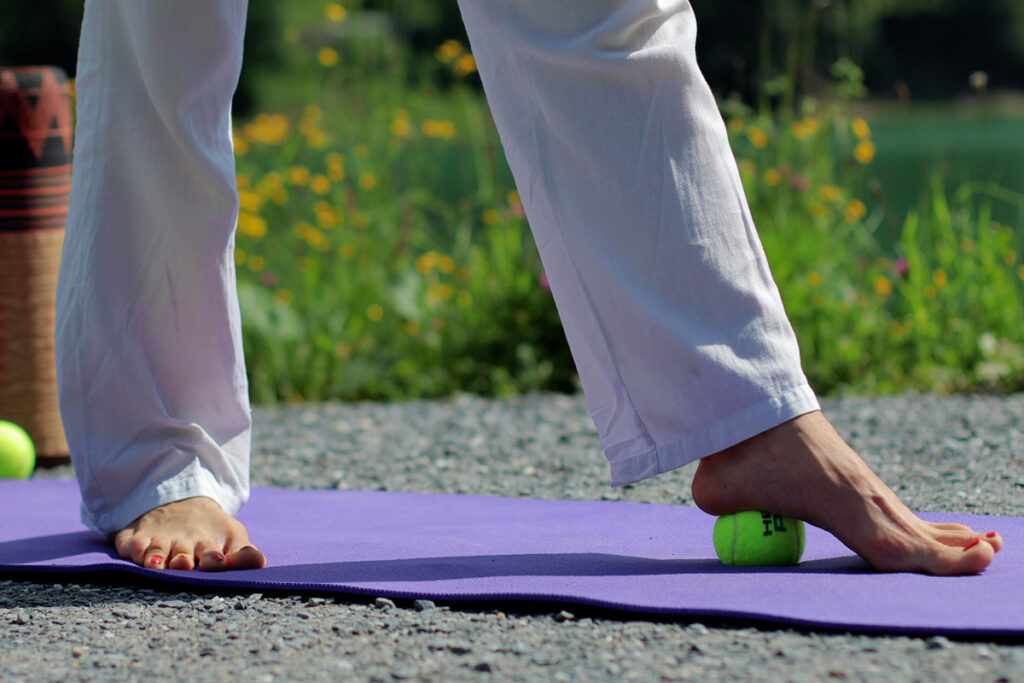 Slowly roll the ball from your toes to the heels and then back again. Continue rolling along the central line to the toes and back to the heel. Next, roll in the outer edge towards the pinky toe and back to the heel. Shift your body weight slightly forward to feel the pressure, and remember, the slower you go, the more you can feel and be receptive to the sensations. After the warm-up, focus on specific areas of tension by applying more static pressure to those points. Take deep breaths, inhaling and exhaling to help release tension effectively.
2. Trapezius Release (Using a Tennis Ball)
Now, lie down on your back with a tennis ball close by. Place the ball on the right side of your upper trapezius, the area between your spine and shoulder blades. Make sure not to touch any bones. Slowly relax your body on the ball, allowing it to gradually release tension.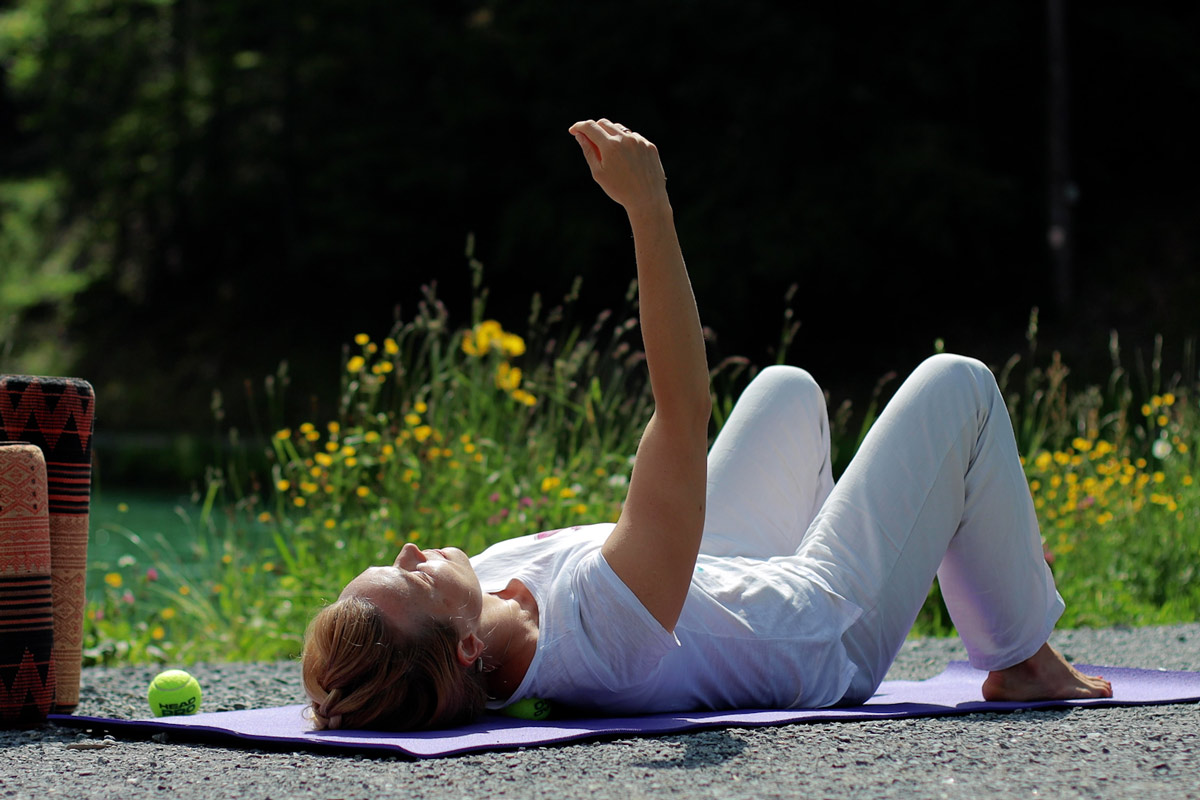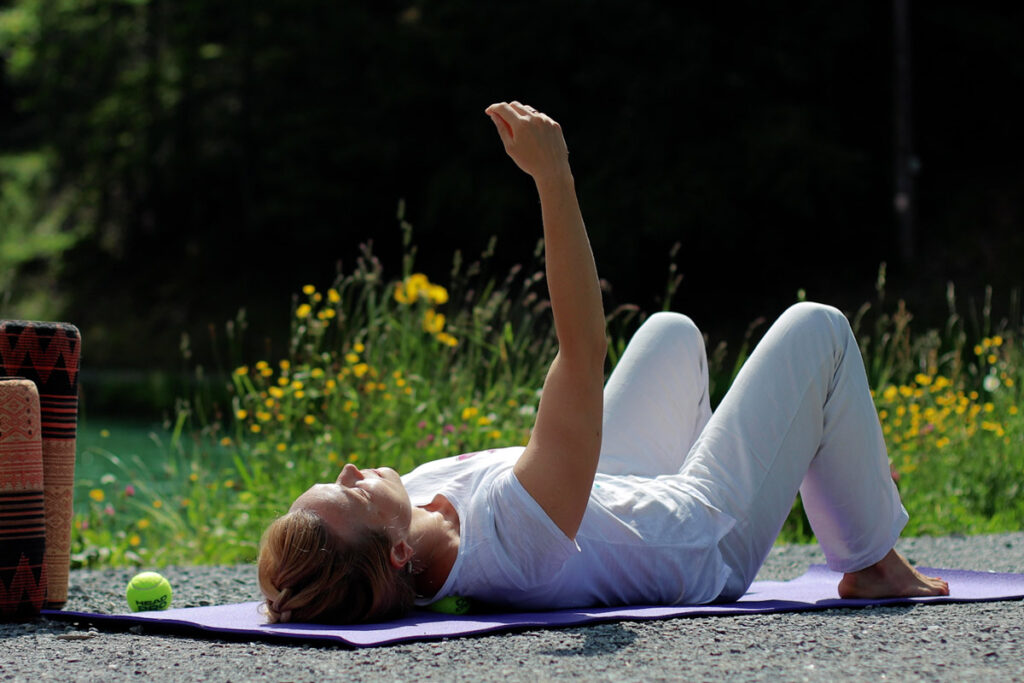 Lift your right arm above your shoulder and perform slow tiny circles in both directions to further release the tension. Then stretch your arm to the right side on the exhale while turning your head to the opposite direction to enhance the stretch, slowly come back to the centre on the inhale and repeat a few times. Repeat the process on the other side, experiencing the difference and relaxation.
3. Sacrum Release (Using a Body Roller)
To release tension in the lower back area, bend your knees and place your feet on the ground. Lift your pelvis and place the body roller under your sacrum, the area where your buttocks start. Remember not to put it too high or too low to avoid discomfort. Slowly roll back and forth to ease tension.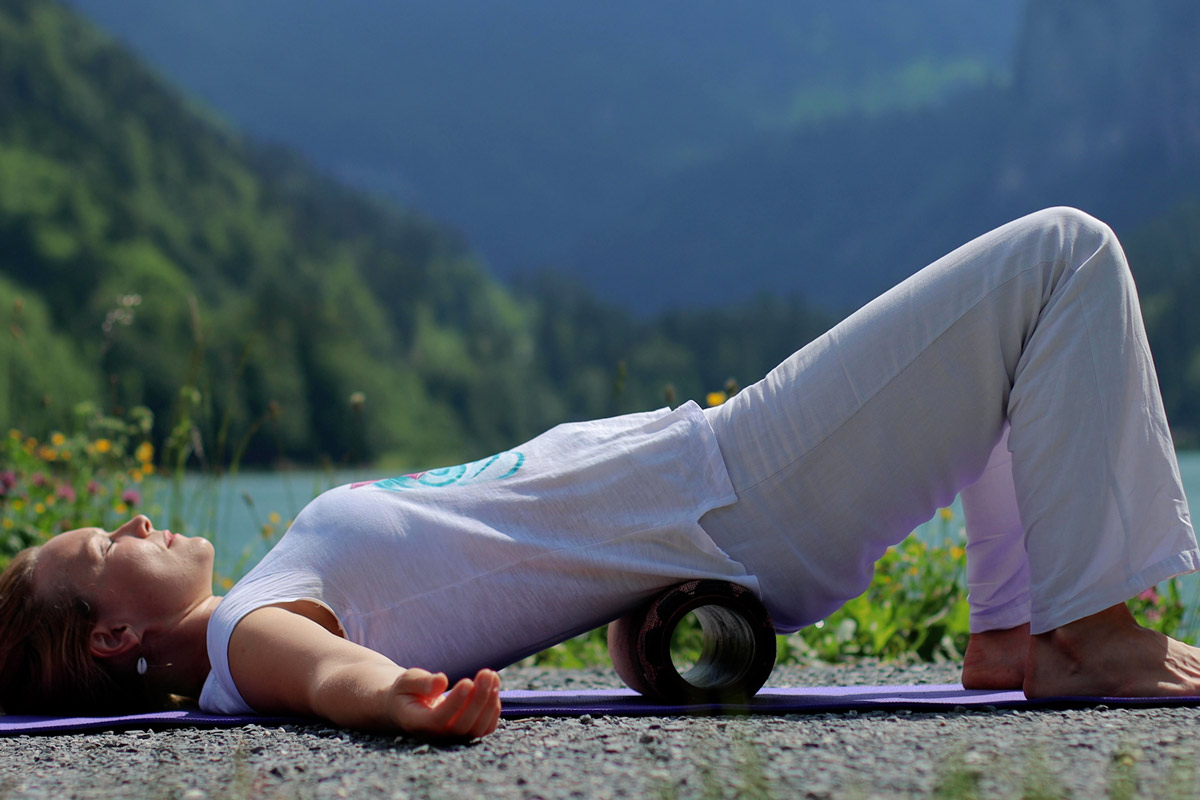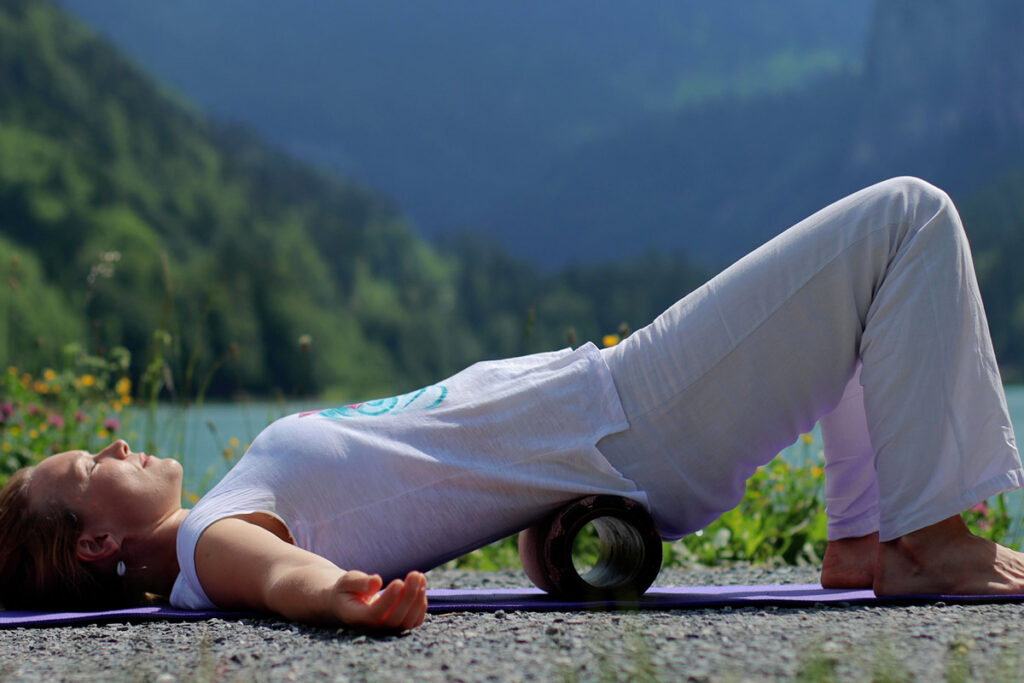 For a deeper stretch, bend one knee into the chest while extending the other leg. Inhale and exhale as you twist to the opposite side, providing a gentle stretch for the hip flexors. Slowly come back to the centre on the inhale and repeat a few times. Then change sides and repeat.
4. Upper Body Release (Using a Body Roller)
For this technique, place the body roller under your scapulas, the shoulder blades. Open your arms and interlace your fingers behind your head for support. Lift your pelvis and roll back and forth slowly, allowing the roller to work on your upper body. This exercise helps release tension and open up the front of the chest, making it ideal for desk workers.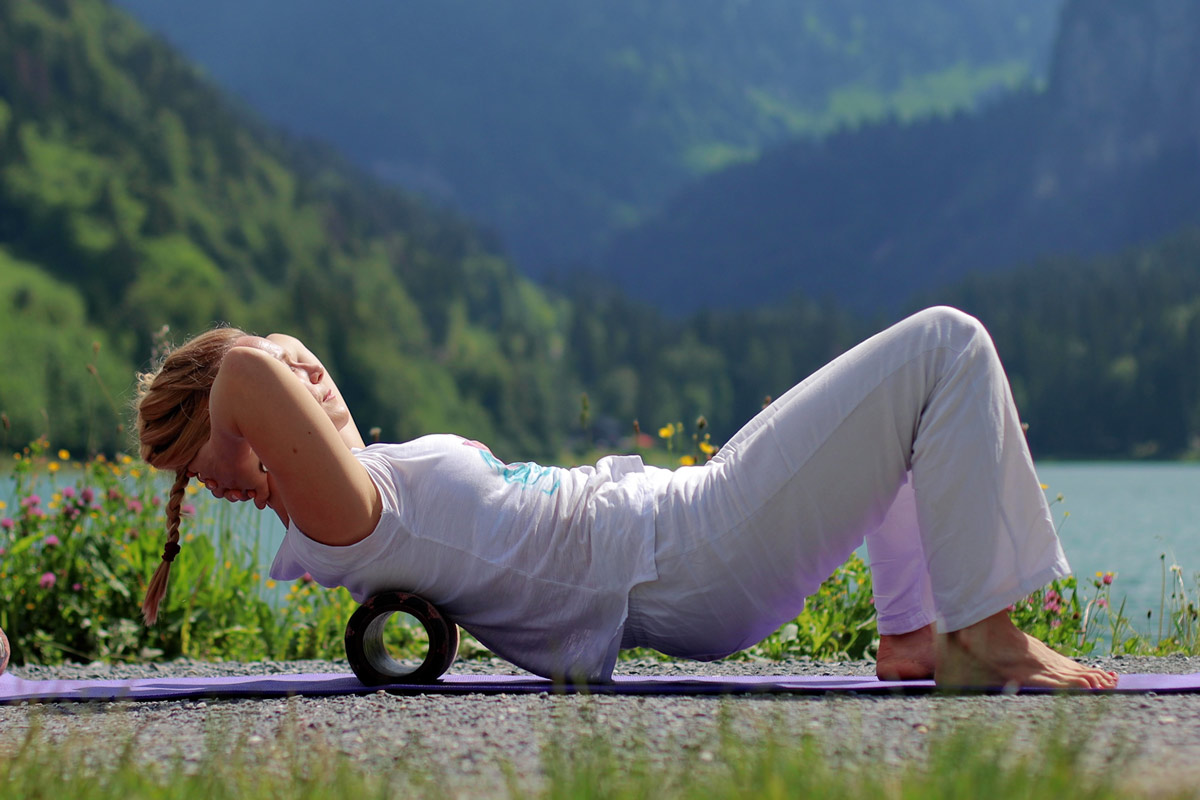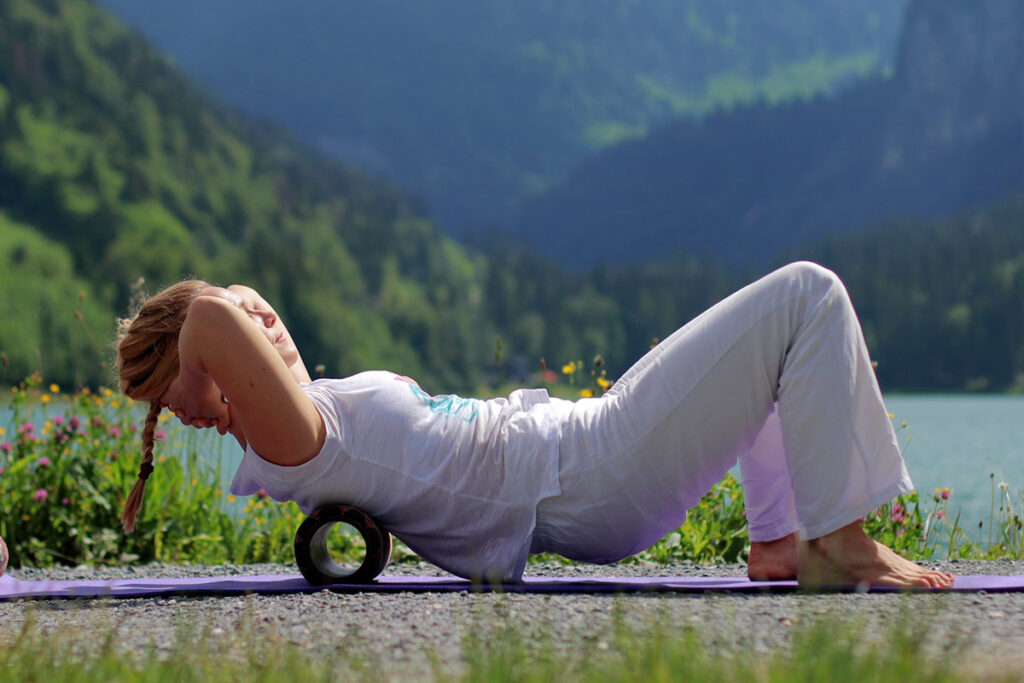 For a deeper relaxation, release your head on a cushion or a floor, keep the legs bent or straight, open the arms to the sides, gently stretching the pectoral muscles and the inner part of the arm.
5. Neck and Shoulder Massage (Using Hands)
Finally, let's explore the power of our hands. Before using the cream, warm them up by rubbing them together and place them on the top of your trapezius and shoulders, feeling the warmth. Use a bit of cream or oil to facilitate the massage. Slowly massage your neck, upper shoulders, and trapezius, focusing on areas of tension. Next, use your right hand to apply pressure to the left shoulder. Slide your fingers up, keeping the pressure constant. Repeat this process a few times, then switch sides. This self-massage practice will help release accumulated tension, prevent future discomfort, and prolong the benefits of professional massage.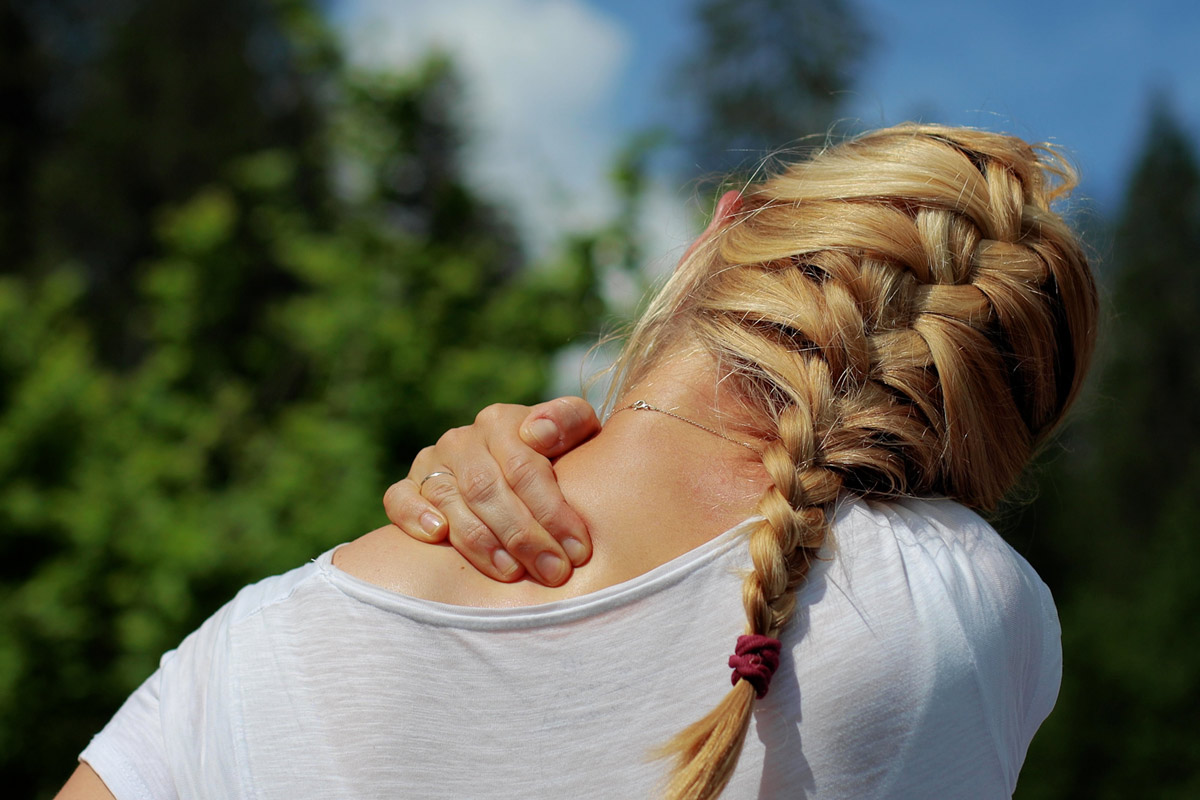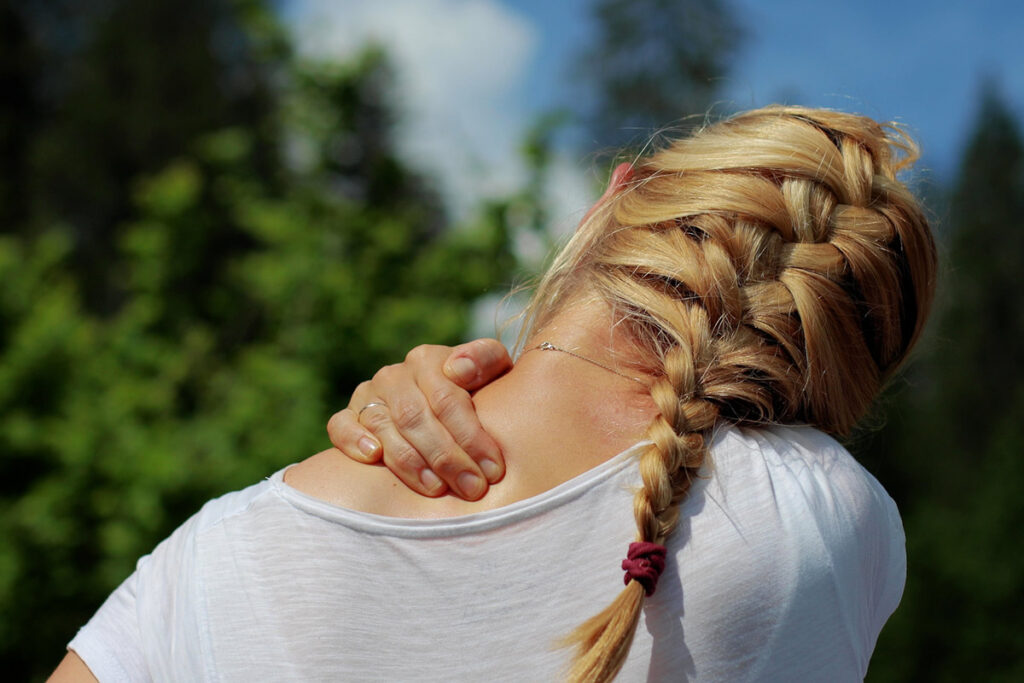 Incorporating these simple yet effective self-massage techniques into your daily routine will undoubtedly enhance your overall well-being and relieve stress and discomfort from your body. Remember, self-care is essential, and by taking care of your body, you can lead a healthier and more balanced life.