Relaxing Stained Glass Soldering Process in the Alps
Polly | February 21st, 2023
Handcrafted stained glass by Alpine Glass Art. Check out Hannah's Etsy Shop.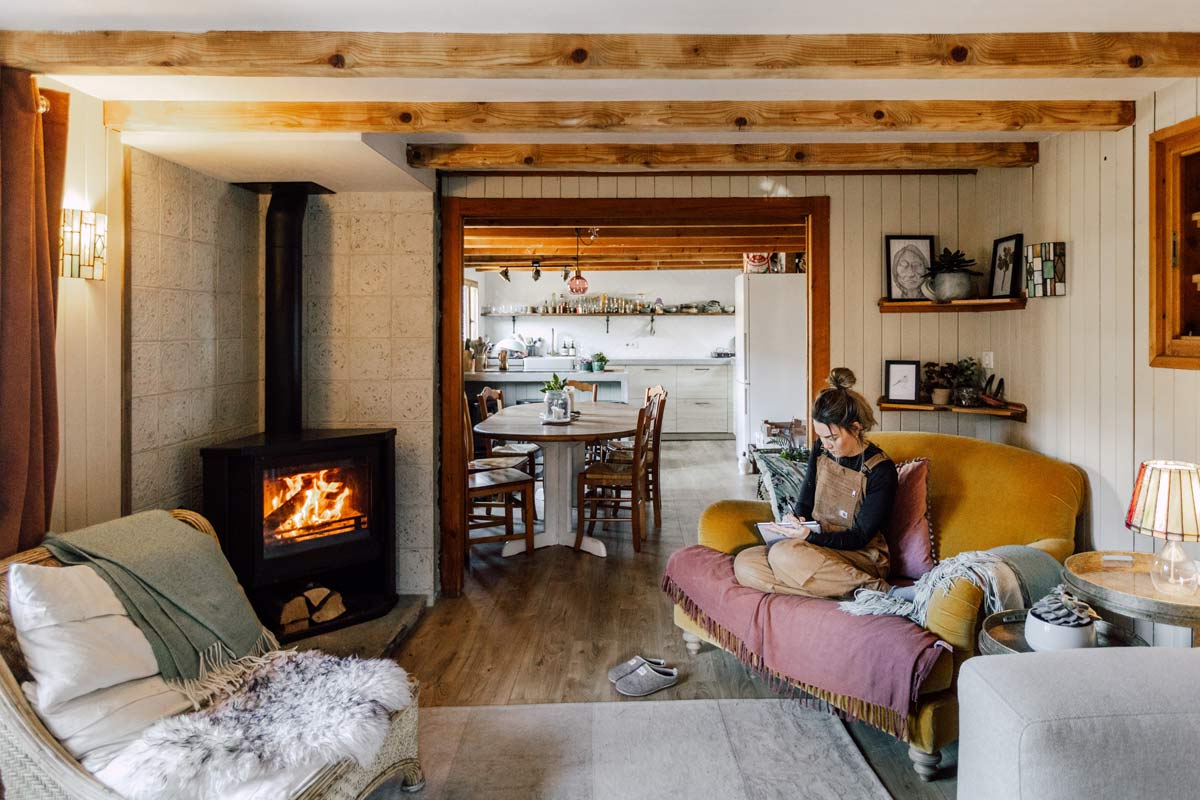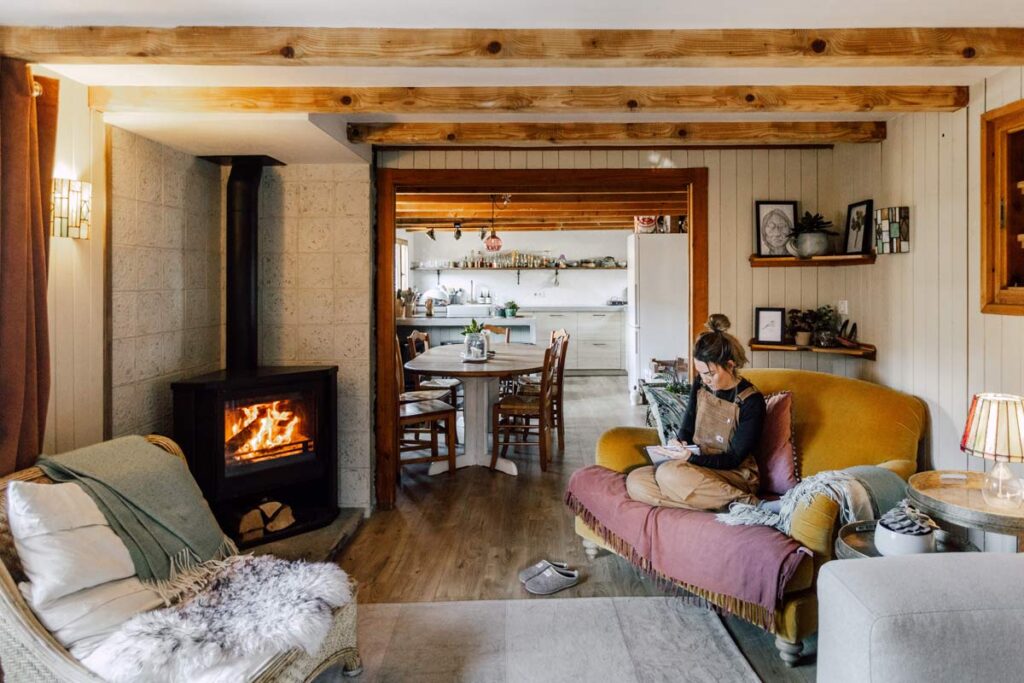 How long have you been an artisan in the Alps, and what inspired you to pursue this craft?
"I moved to the Alps full time shortly before Covid and by the third lockdown was ready desperately for a hobby. My dad used to make stained glass lamps when I was younger but for some reason it had never occurred to me to give it a go, until lockdown. Once I ordered my starter kit and taught myself the basics I completely fell in love with the craft and have been doing it ever since!"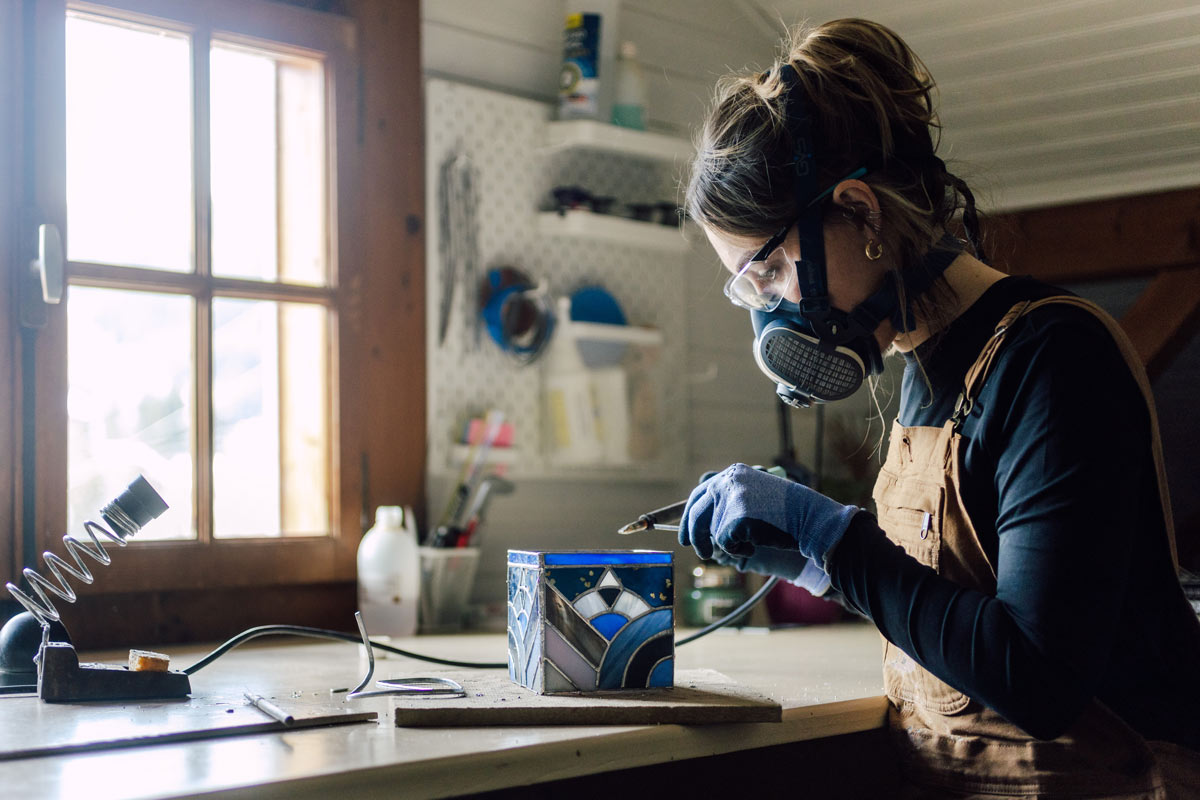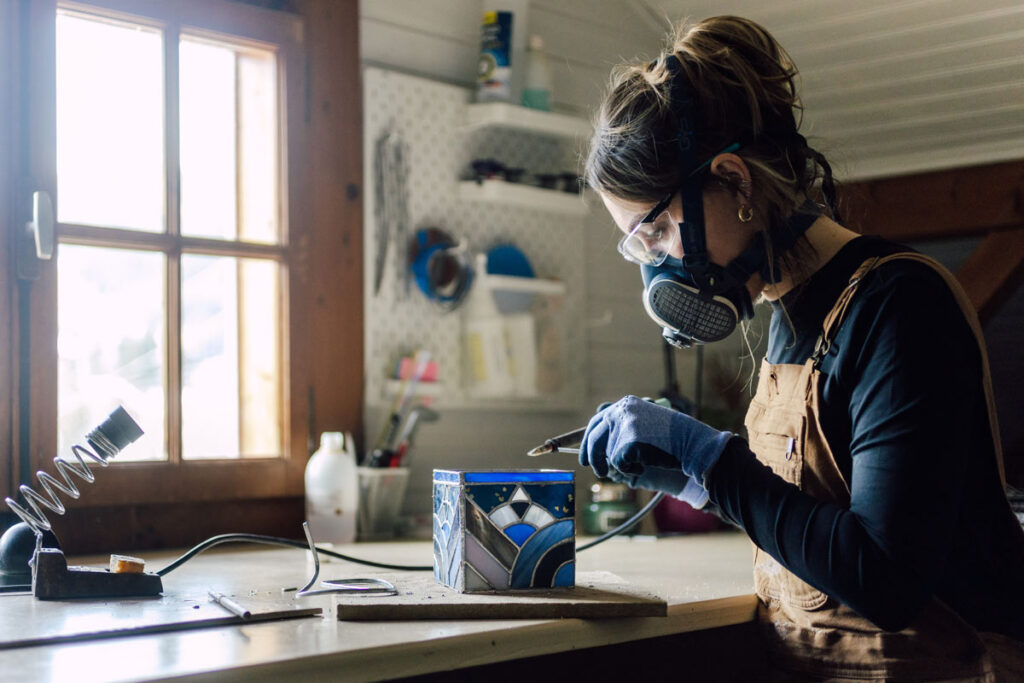 What are the most popular products or crafts that you create, and how do you differentiate your work from other artisans in the area?
"My most popular products, and luckily my favourite products to make, are the more functional household pieces such as lamps, plant pots and mirrors. I love to make something that will be used every day in someone's home. There are so many wonderful creators in the area but I feel like I've found my niche with glass and I do have a couple of local artists who I would love to collaborate with in the future."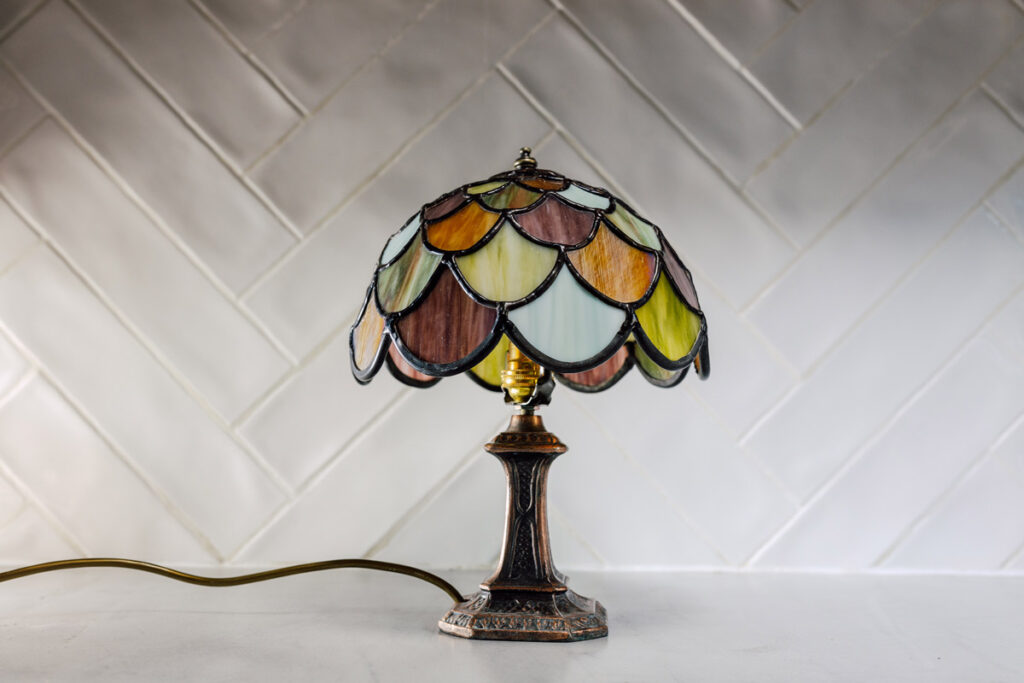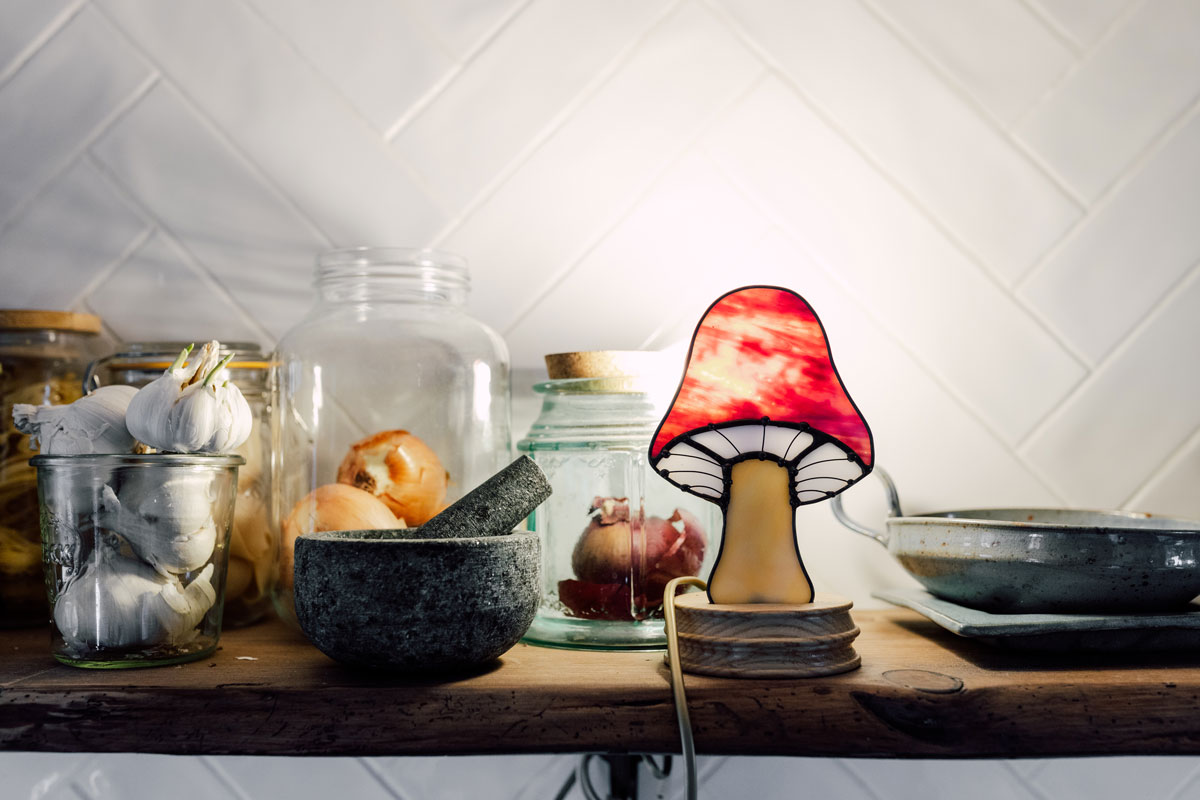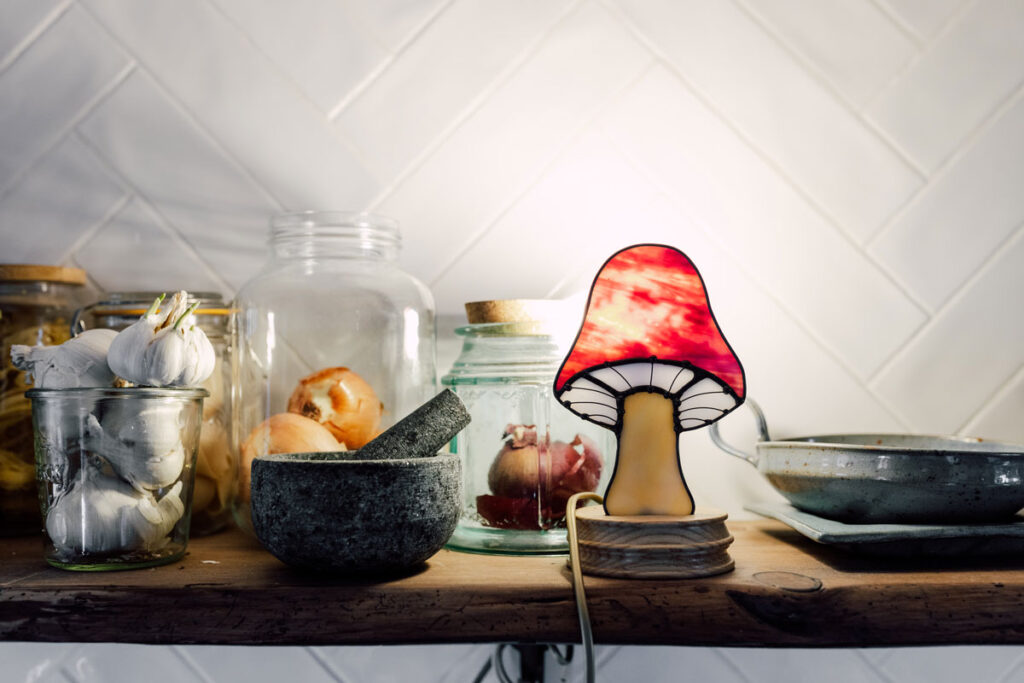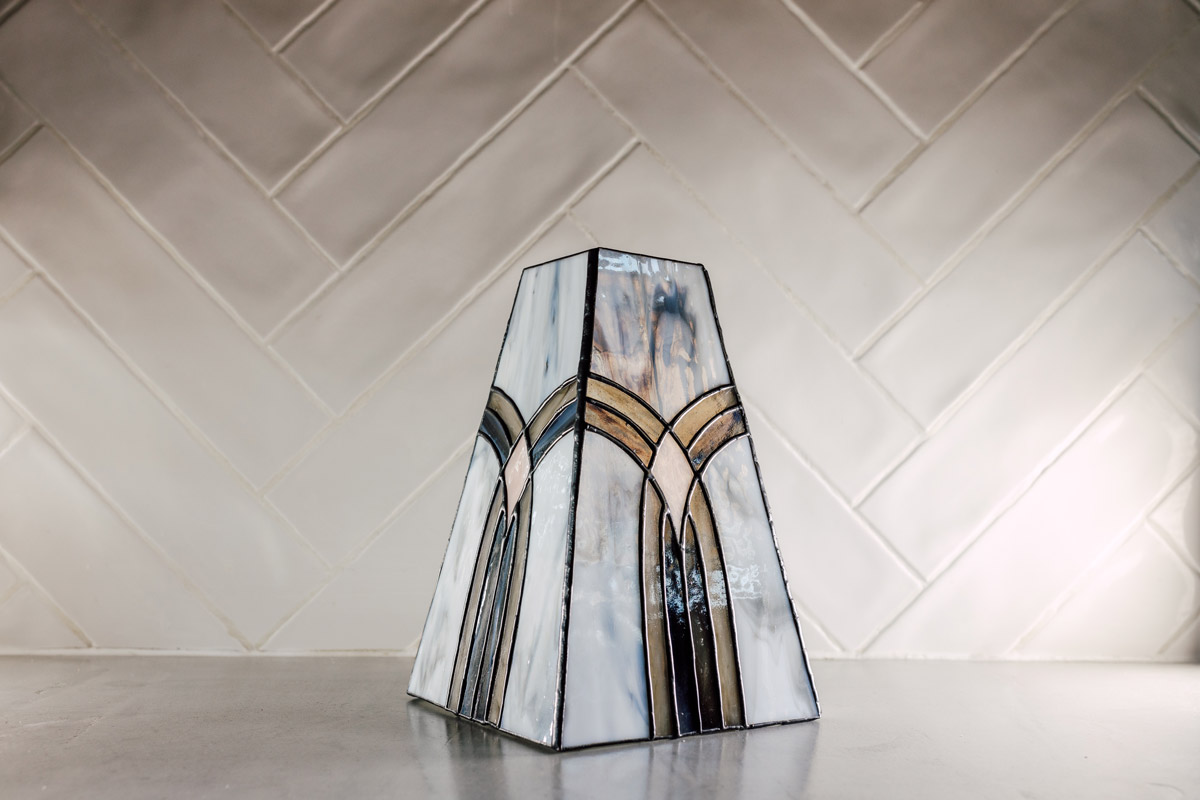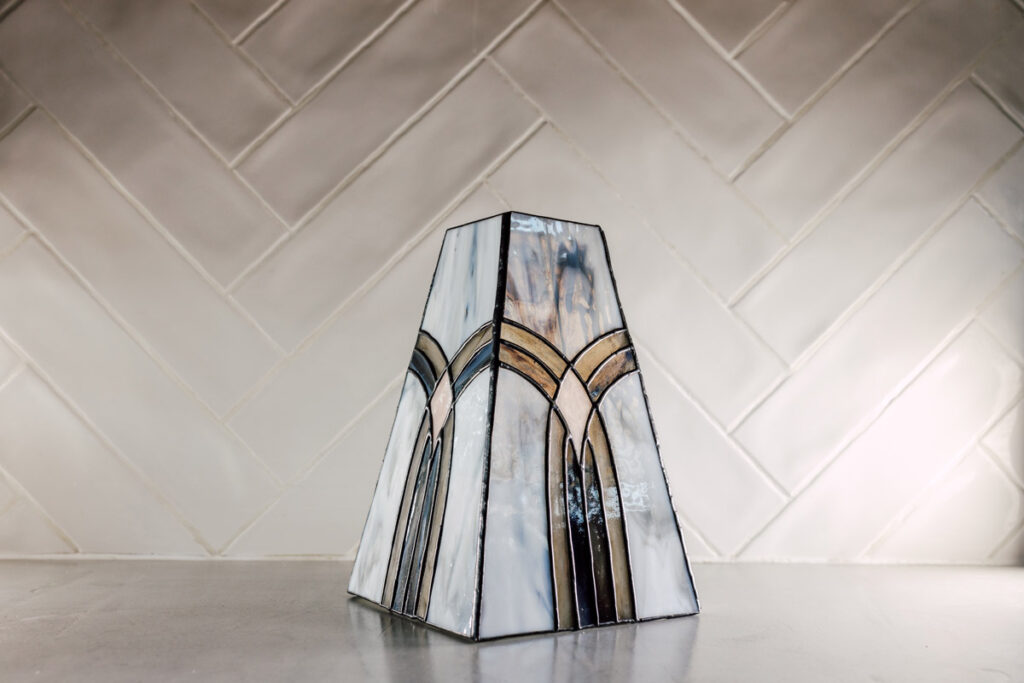 Can you walk us through the process of creating one of your products, from start to finish?
"I start by roughly sketching out a few ideas before settling on my final design. I then use Adobe Illustrator to draw the pattern to make sure all of my measurements are exact and so my cuts will line up perfectly. Then it's time to decide on a colour palette and choose the glass.

I then transfer my pattern from paper to the glass, using either card or tracing paper, and I start to cut the pieces from glass. To do this I make a small score in the glass, before breaking it with pliers. Once I have all of my rough cuts I grind the edges of each piece to make sure it fits the template perfectly, and all of the edges are smooth. The it's time to carefully wrap copper foil around each piece, this foil is what the lead will stick to on the next step, which is soldering.

To solder I use a soldering iron to melt lead along the seams of each piece to hold everything together. After this I apply a patina to the lead lines which causes a chemical reaction, turning the lead from silver to either black or copper."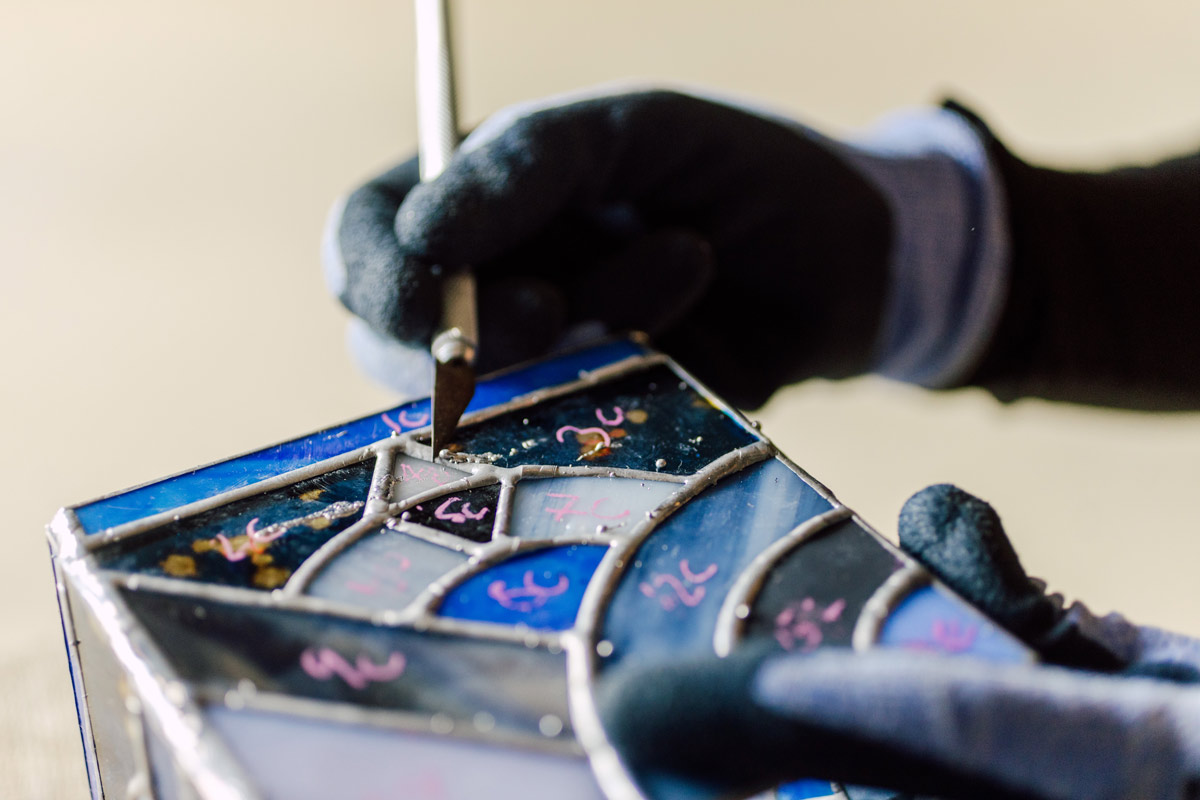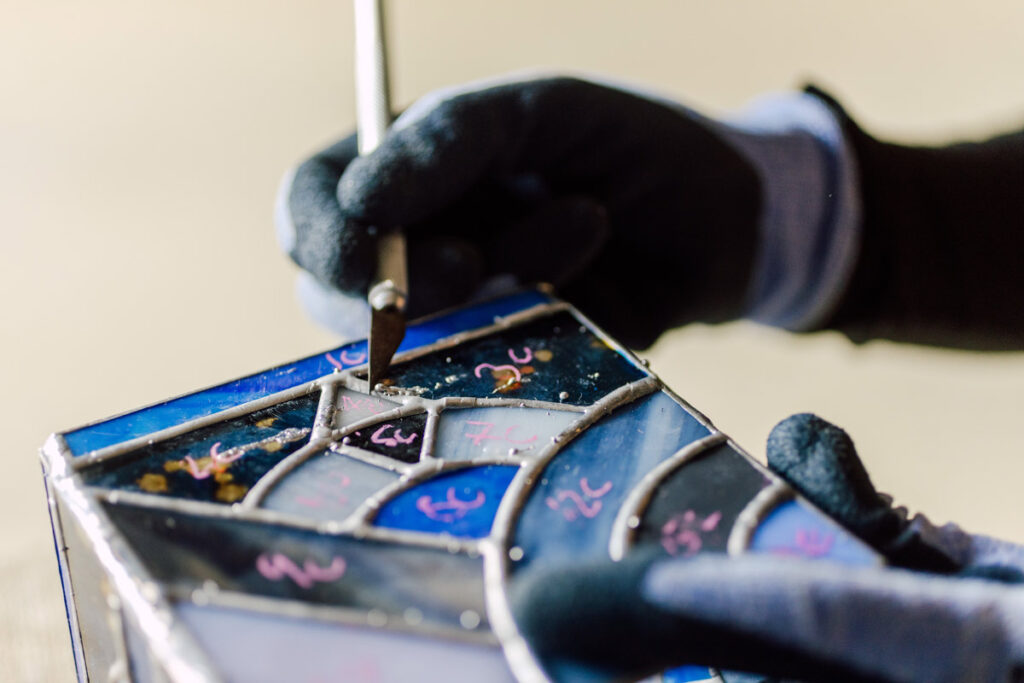 What inspired you to move and live in the Alps, and what do you enjoy most about living in this region?
"The lifestyle and community was a big draw for me. I started off by living here just in the winter seasons and spending the rest of my year back in London. Gradually I found that I was here more and more throughout the year and by the time Covid hit it was time to make a decision and the Alps won! It is such a privilege to have the mountains on my doorstep, with all of the activities and beauty that they have to offer."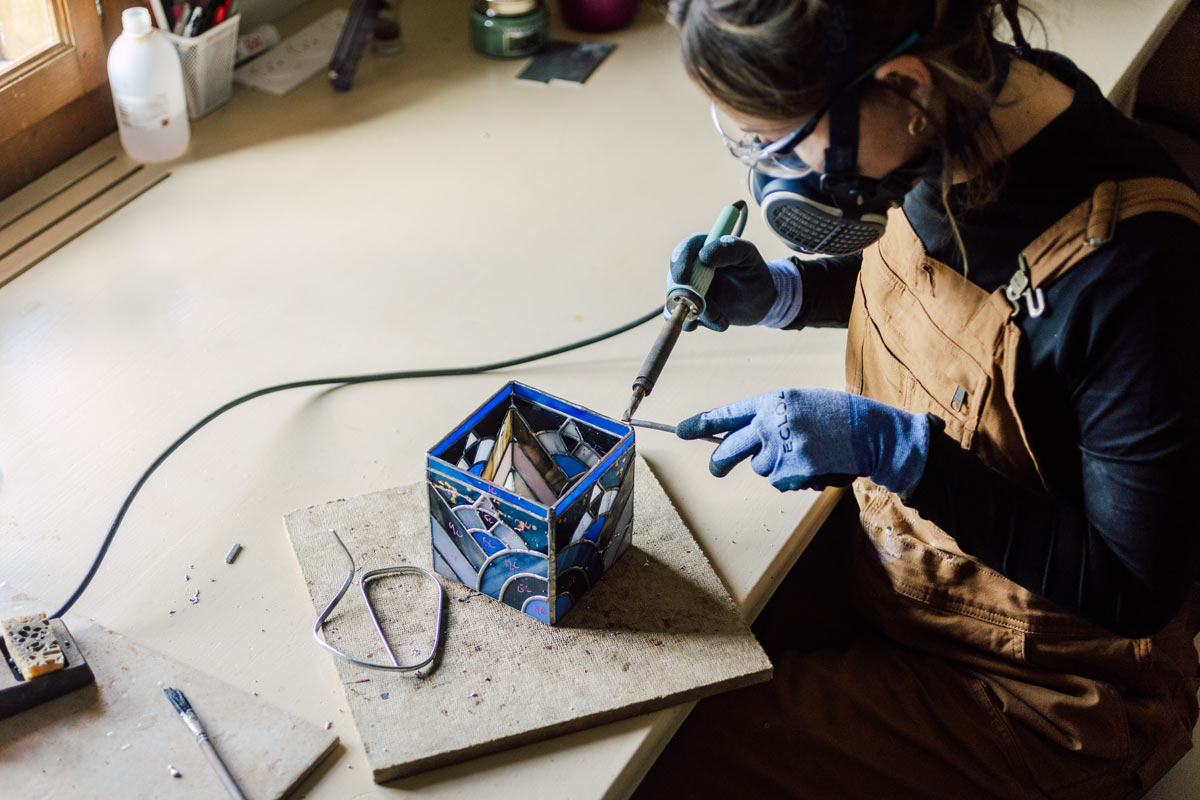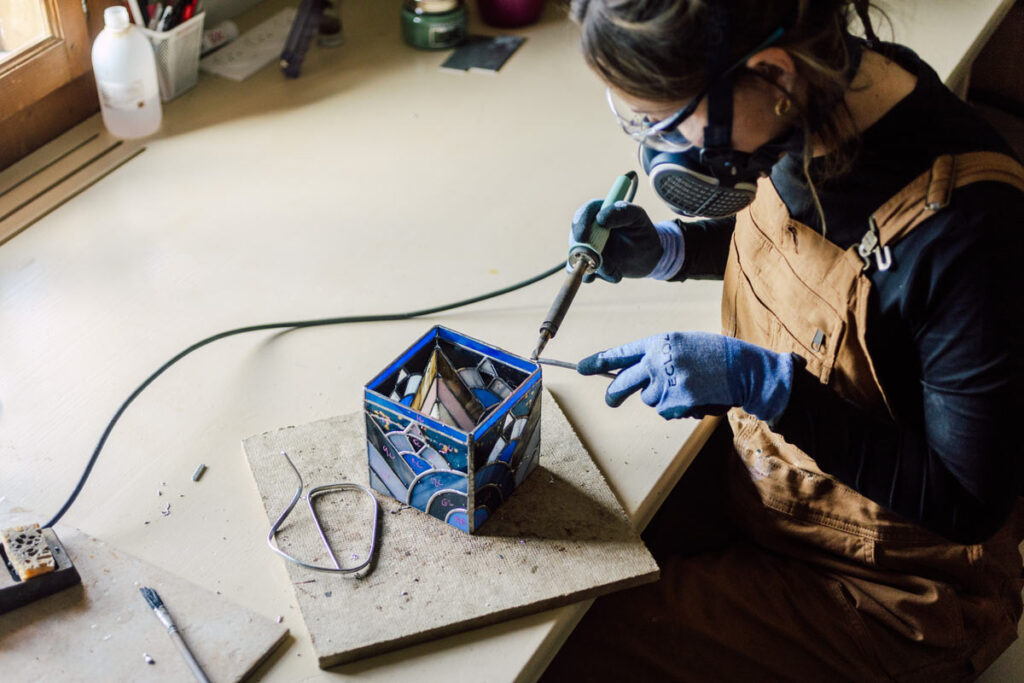 How does living and working in the Alps influence your craft work, and what aspects of the environment or culture do you incorporate into your designs?
"The lifestyle here is very seasonal and this influences my work from the colours that I use, to the designs themselves. Surprisingly I haven't done many mountain based pieces yet, but I do have an idea for an upcoming lamp collection inspired by the Alps."
What challenges have you faced as an artisan in the Alps, and how have you overcome them?
"I definitely feel that there is more opportunity as an artisan living in a big city, which is something I've really felt when I have done trade shows in cities. A lot more opportunities for growth present themselves and the chance for in-person networking is something I miss whilst living in the Alps.

To overcome this I work hard at building my brand online, and I still try to book in a couple of big trade shows throughout the year. A more remote style of living definitely doesn't mean you can't go down an artistic path, it just works slightly differently. A small price to pay to live somewhere like this!"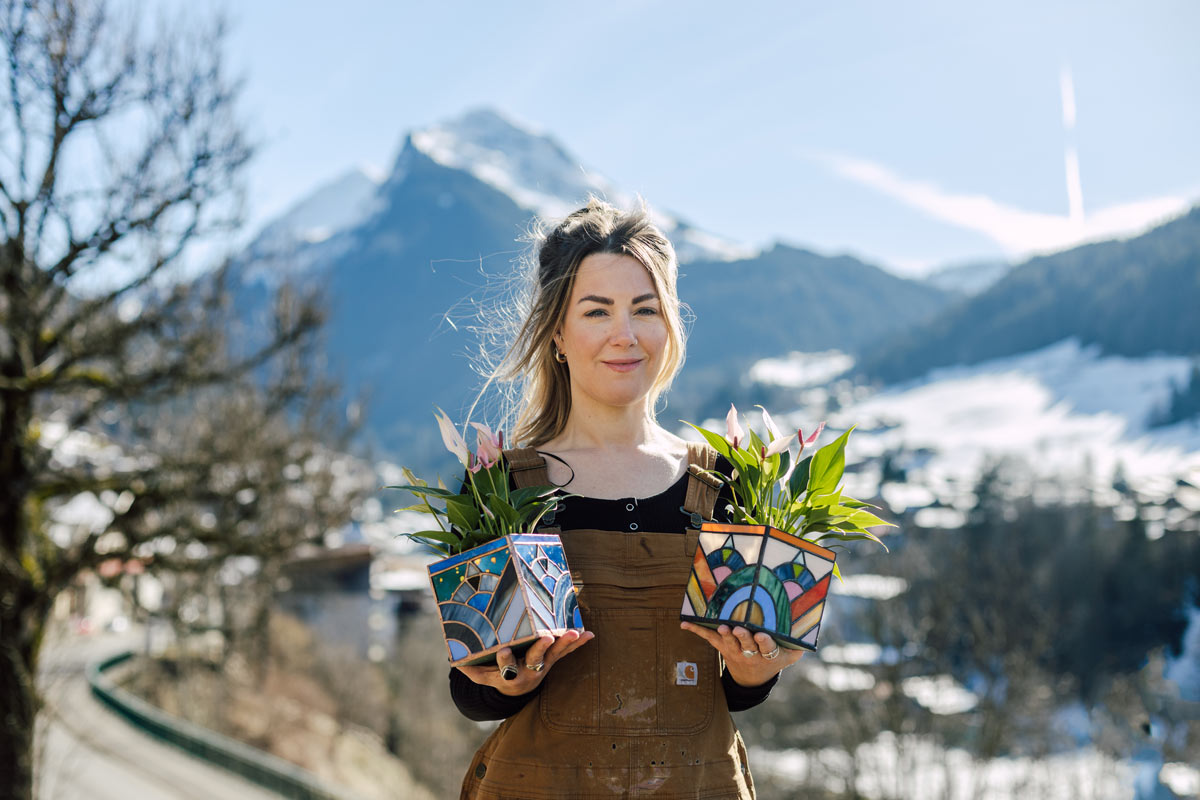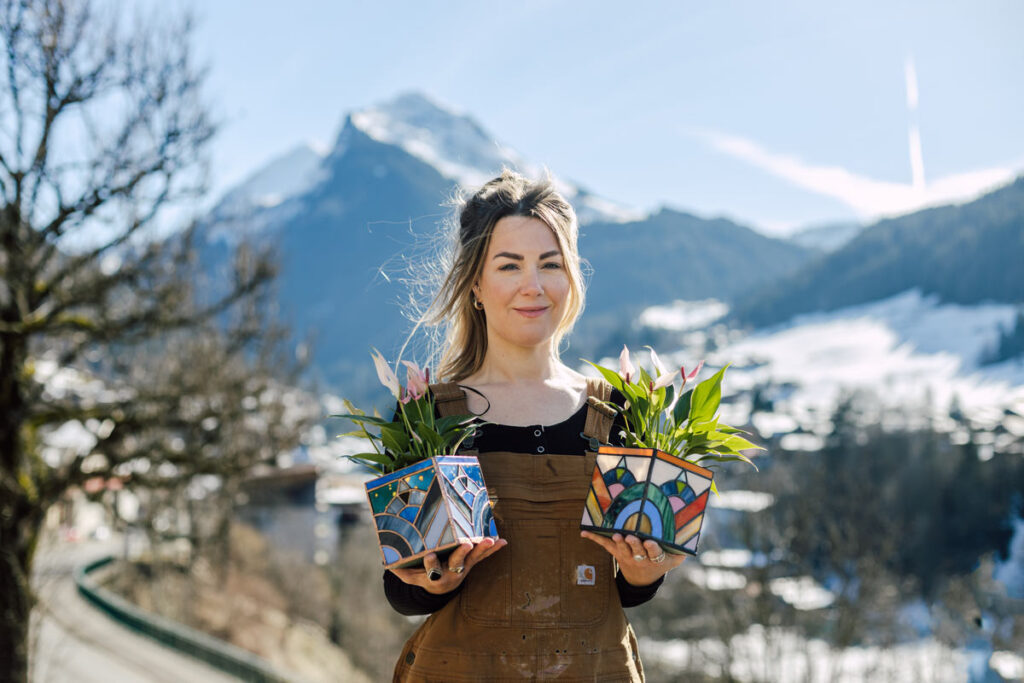 Are there any upcoming projects or collaborations that you are excited about?
"Up until now I have mostly made individual, one-of-a-kind pieces, but I'm now starting to focus more on creating some collections. I am also in talks with another local artisan about a possible collaboration, which I'm very excited about, but it's all very hush hush for now!"
What advice would you give to aspiring artisans who are just starting out in the craft industry?
"I would say to be patient with it. It took me well over a year before I felt like I knew my craft well enough to start selling pieces, and when it does come time to sell it's slow to build up a brand and a customer base. I think it's important to chip away at it slowly. I've also found that over time I've learned more about what people want to buy, so I try to balance this as much as possible with what I enjoy making."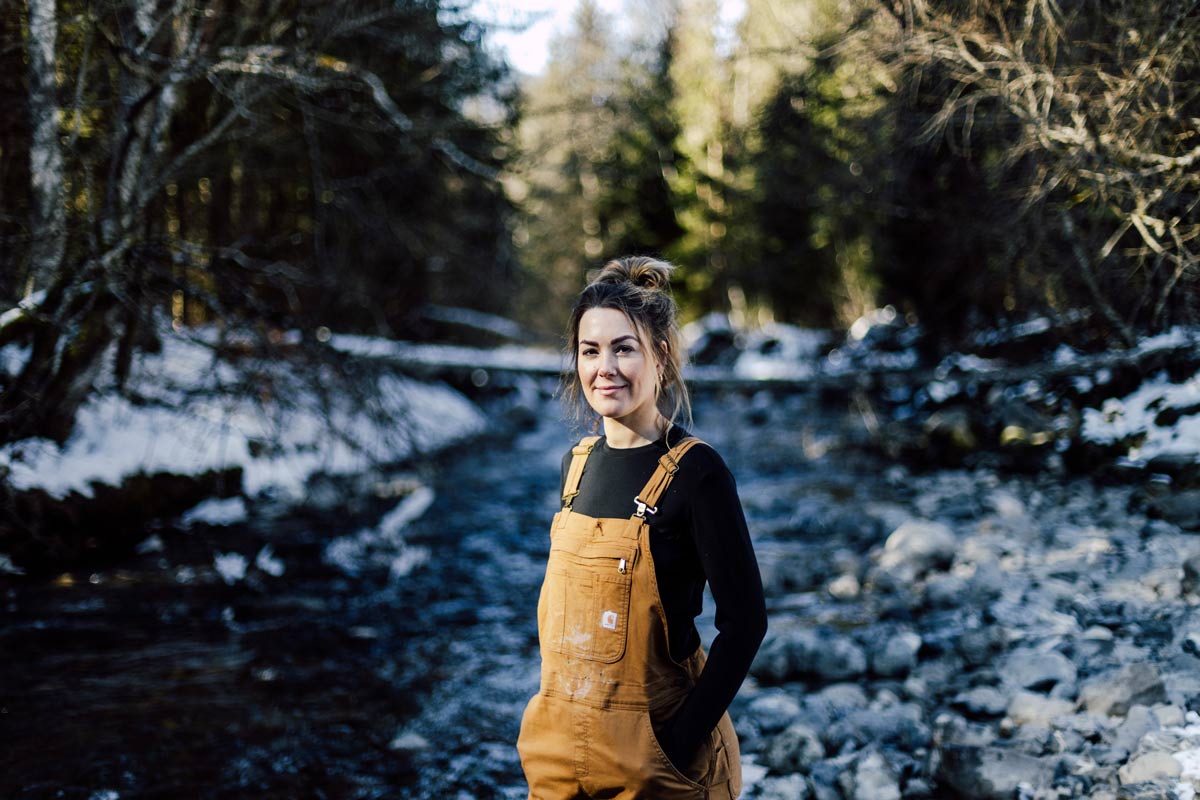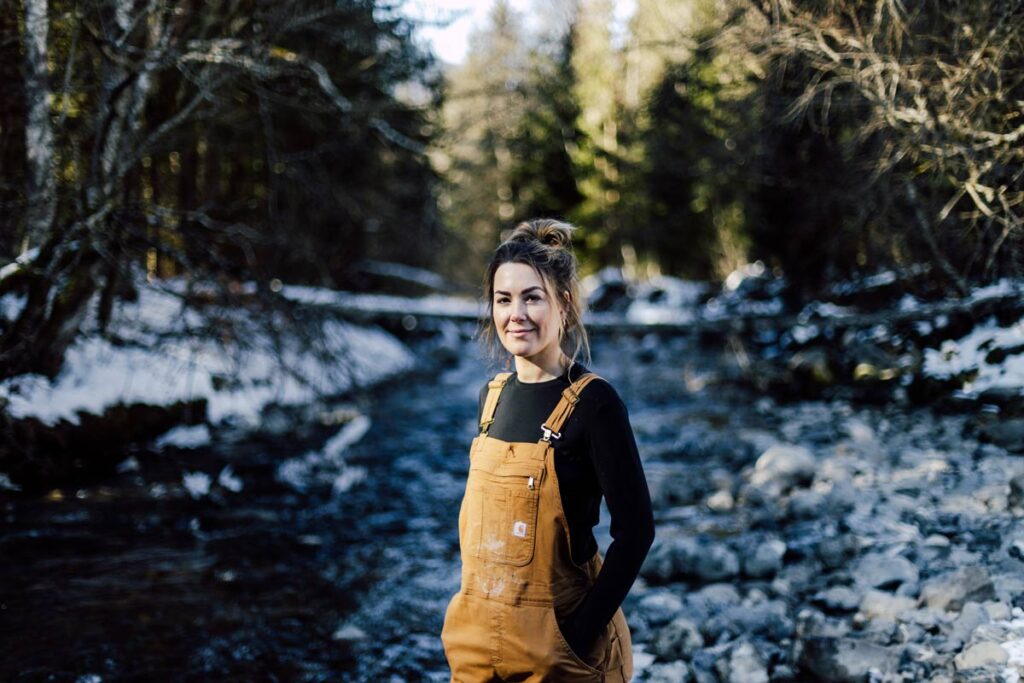 Where can people find and purchase your crafts?
Most of my pieces are featured on my Instagram, so people can always DM me on there: @alpine.glass.art
I also have a website and an Etsy shop.
You can also email me at hannah@alpineglassart.com